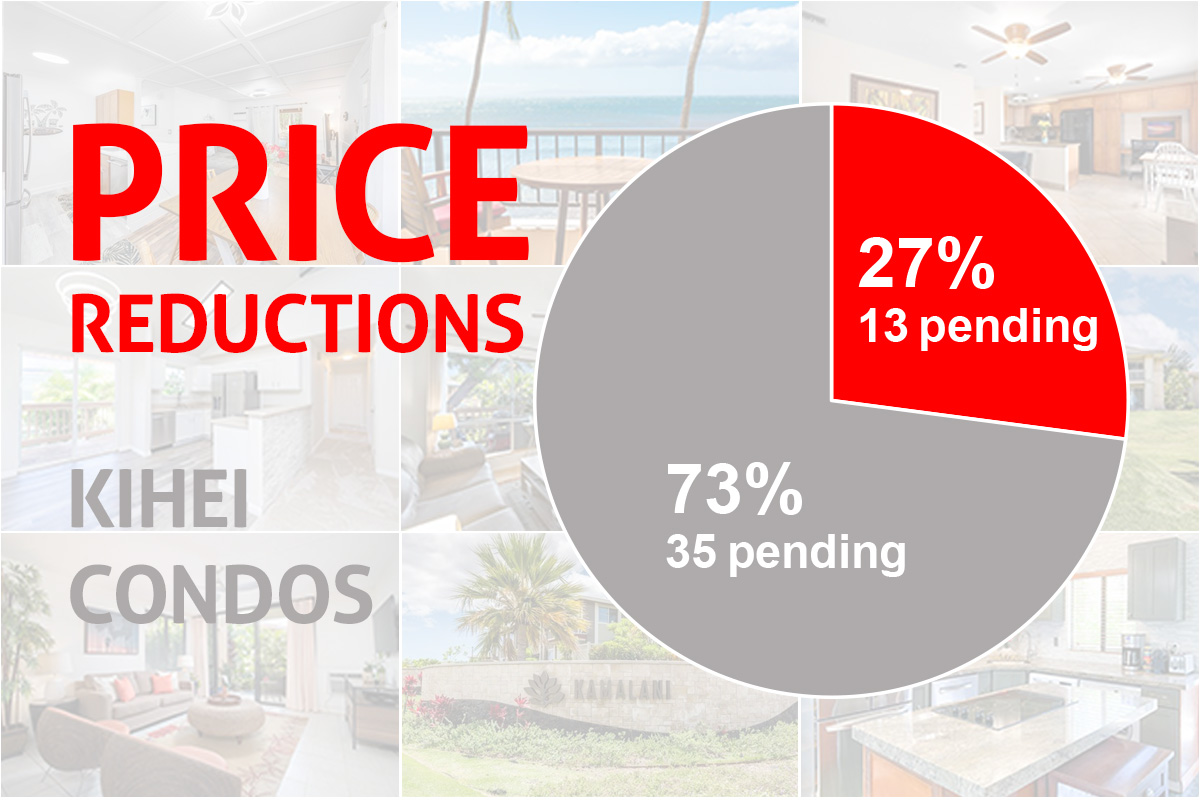 Good news is on the horizon for savvy condo investors who have been monitoring the Kihei condo market! Overpriced condo listings are starting the feel the sting of overestimating the market and sellers are now feeling increased pressure to lower their asking price in order to get their condos sold in the next 60 days.
I'm tracking an increase in the number of price reductions for Kihei condos which points to a recognition by more sellers that the boom times of the last few years have passed. There are a few tips that I will share to help you capitalize on this shift in the market, but first here are some numbers that will give you a sense of the change…
Past Sales vs Present Pending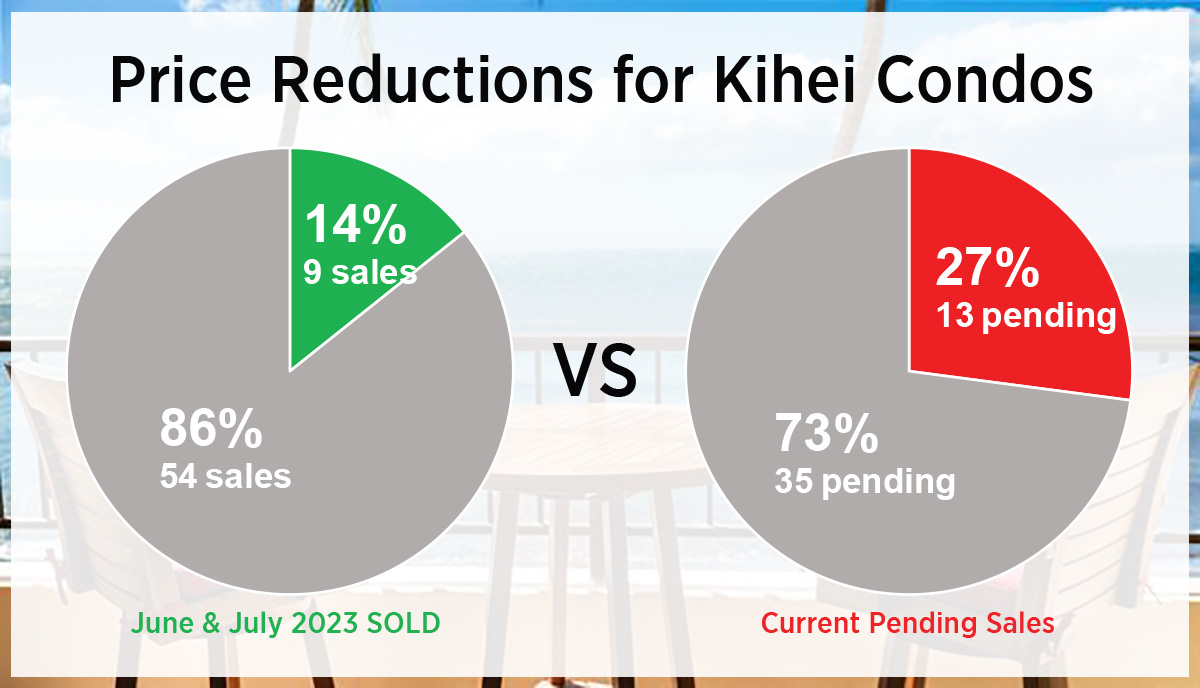 For the two most recent months of June and July there were a total of 63 Kihei condos sold and only 9 of them (14% of sales) had price reductions before finally going under contract. For the remaining 54 sales 18 sold below list price, 24 sold at list price, and 12 sold above list price.
That was the recent past, now here's the sobering present: Of the 48 currently pending sales for Kihei condos, a significant 13 of them (that's 27% of the pending sales) had to have at least one price reduction in order to attract a buyer enough to put it under contract.
Tip #1 – Understand Motivation
Before you ever make an offer on a Kihei condo, you must first try and understand the sellers motivation in putting their condo on the market in the first place. Some are selling because of a significant life change while others are just upgrading their investment. Some sellers are eager to sell as soon as possible while others are testing the market and willing to wait for a "jackpot" buyer to come along. When you craft an offer that accounts for a sellers motivation you can get a better result.
Tip #2 – Back on Market listings
There is so much churn in the market these days and many condos in Kihei fall out of escrow with the primary buyer within the first 14 days. Recent escrow cancellations have also triggered price reductions which indicate seller motivation, so it's vital to monitor this segment of the market. When you become my client, I will setup special instant alerts so you are notified whenever a property is coming back on the market so you can be the first to submit an offer.
Tip #3 – Days on Market
A freshly listed condo gets all the attention in the first 48 hours of hitting the market which means that many buyers often overlook older listings. If a listing has been languishing on the market for more than 90 days some sellers might be primed for responding to lower priced offers.
Tip #4 – Have a Kihei condo expert in your Corner
Sure, you can get the basic information about condos for sale all by yourself by searching online, but there's a wealth of additional data and expertise you can only tap into when you choose to work directly with a REALTOR who specializes in Kihei condos. With many years of sales experience focused on condos in Kihei, I can give you an edge with keen insights and access to information not publicly available. To get started just sign up for Kihei condo listing alerts and I will be in touch soon for our initial buyer consultation.
Recent Kihei condo listings
Below is a freshly updated list showing the 10 most recently listed Kihei condos. You can access other specialty curated searches by visiting my guide to Kihei condos for sale.