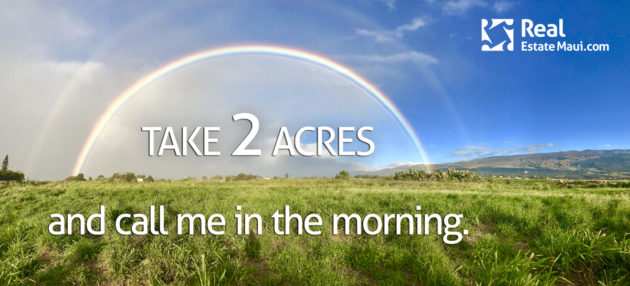 What's behind the Haiku land rush? There have been 50 land parcels sold in the Haiku district of Northeast Maui in just the past three months. While a few transactions have been the works for a long time, and some were new subdivisions, the sudden surge of land sales in Haiku is an important signal which tells us something important about the current state of the Maui real estate market.
Lack of homes
Simply put, the number of people looking to buy a Haiku home right now is significantly greater than the number of suitable properties available on the market. Keep in mind that "suitable properties" includes homes that buyers can afford – Out of the 22 available homes for sale in Haiku, there are only 6 homes priced under $1M. Take a look at our list of Haiku homes for sale under $1M and see how limited the selection currently is.
Any Port in a Storm
This market shortage, coupled with high demand, is causing buyers to seek out alternatives, which is moving markets in unique ways. So many people feel an urgent desire to secure any piece of property on Maui for their future, driving an increasing number of buyers to purchase parcels of land in Haiku. Even more amazing, only 11 out of the 50 parcels sold had county water available. 19 parcels sold had private water (well systems) which can have limitations. The remaining 20 of those land sales had no water at all and will rely solely on catchment systems.
Land available in Haiku
Right now there are 24 parcels available and our list of Haiku land for sale shows prices ranging from $259,000 (no water) to $2,995,000. If you can't find your dream home are curious to know about land options, get in touch with me so I can share the pros and cons and learn about your ownership goals.