Update September 25th, 2018. My predictions were right, this unit was very desirable and went under contract in only two days.
I'm constantly monitoring the market for affordable Kihei vacation rental condos and noticed a new listing that came on the market today that has a lot to offer. Read below for my profile of a best buy for a Maui Vista condo…
Maui Vista Unit #1309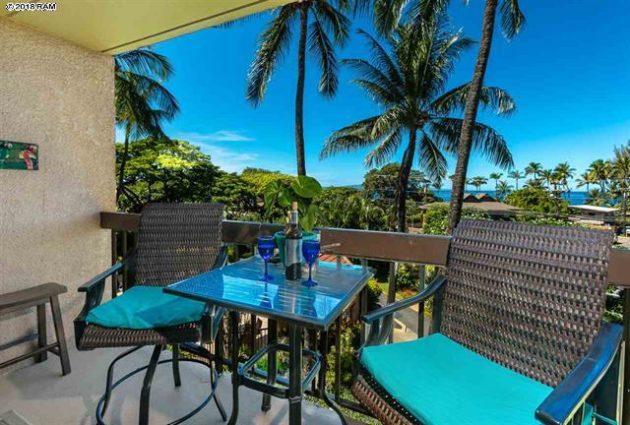 Maui Vista is an excellent entry-level option for people wanting an affordable Kihei condo that allows vacation rentals (short term rentals). The complex is located in South Kihei across the street from Charley Young beach and is also just a short walk away great shops and restaurants.
Prime front row units rarely come on the market (the last time a similar unit was listed was March 2016) because they are held for long periods of time by owners. Today Maui Vista 1309 listed for $428,880 which is a great price considering what this unit has to offer:
Great ocean views
Low maintenance fee of only $482/month
Vacation rentals are allowed
Owner occupied unit – less wear and tear
New shower renovation done in 2018
Kitchen was renovated in 2006
As you can see from the living room photo there's easy-care tile floors and mirrored walls to visually create the feeling of more space. Maui Vista Unit 1309 is a 1 bedroom, 1 bathroom unit with 588 square feet of living area.
This is your view from the lanai of Maui Vista 1309. You can see the community pool which is right in front of the building fronting South Kihei road.
For comparison purposes, the other available 1BR unit at Maui Vista is Unit #3303 which is in the back building on the 3rd floor and priced at $388,000. I'd say that getting the fantastic location and ocean view of Unit #1309 is very much worth the $40K price difference.
I like that the bedroom has soft blue wall colors and a decent panel of jalousie window for airflow. Maui Vista unit 1309 is sold furnished.
The bathroom has an updated shower that was done in 2018.
Other Kihei condos for sale under $500K
Listed at $499,000
North Kihei beachfront location
1BR/1BA
675 square feet of living area
Search for Nani Kai Hale condos for sale
Listed at $497,500
South Kihei across the street from the beach
1BR/1BA
778 square feet of living area
Search for Hale Kamaole condos for sale
Listed at $489,900
South Kihei across the street from the beach
1BR/1BA
655 square feet of living area
Search for Kihei Akahi condos for sale
Listed at $489,000
South Kihei across the street from the beach
1BR/1BA
650 square feet of living area
Search for Maui Banyan condos for sale
Listed at $469,000
South Kihei next door to Maui Vista
2BR/2BA
745 square feet of living area
Search for Pacific Shores condos for sale