If you've spent any time shopping for Kihei beachfront condos for sale you've probably seen your fair share of crowd pleasing condos like Mana Kai and Sugar Beach Resort which are both regularly available for purchase. But what if you want a truly unique beachfront condo in Kihei, something more of a trophy unit that's rarely on the market? Then this is your fortunate moment, as there are three truly special units for sale right now that are worthy of your consideration!
Top 3 rare Kihei beachfront condos for sale
#1 – Hale Pau Hana Unit 106
Hale Pau Hana Unit #106 is a rare ground floor unit offered for $1,169,000. This South Kihei complex is highly prized and units do not come on the market very often at all!
This unit has 1 bedroom, 2 bathrooms and 817 square feet of living area. It was recently remodeled (see my recent article about remodeled Kihei condos) and is offered fully furnished! The maintenance fee is $914 per month.
Why I would buy this condo
Hale Pau Hana offers an excellent location with lots of shops, restaurants and activities all in convenient walking distance. Rental guests love this community and many renters come back year after year because Hale Pau Hana seems to offer a vacation experience like no other.
#2 – Maalaea Surf Unit A5
Maalaea Surf Unit #A5 is a second-floor unit with an absolute prime location. It's listed at $1,599,000.
This is a spacious 2 bedroom, 2 bathroom unit with 1,101 square feet of living area.
Why I would buy this condo
A classic low-density community in North Kihei, Maalaea Surf offers more of a tranquil experience of old Hawaii far removed from the hustle and bustle of the busy resorts.
#3 – Kamaole One Unit 6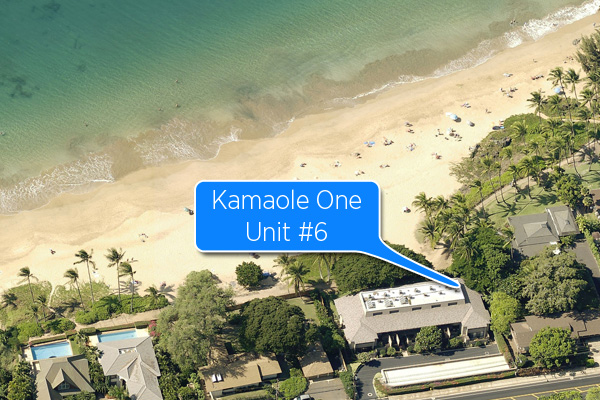 A truly remarkable and rare Kihei beachfront condo for sale, Kamaole One Unit #6 is an end unit that offers easy access to the popular Charley Young beach.
Offered at $1,650,000 – this is a 2br/2ba unit with 933 square feet of living area. The complex was built in 1937 but the unit has been beautifully upgraded to feel modern and fresh.
Why I would buy this condo
Charley Young beach remains one of my all-time favorite spots on Maui! Since childhood, I've stood on the sand in the late afternoon turning my gaze away from the ocean toward those peaceful condos tucked subtilely at the edge of the beach. Now that I've gotten to know a little about the condo, Kamaole One seems like a truly one-of-a-kind community that I'd want to own.
How is the Kihei vacation condo market?
I'm glad you asked! Actually, I've just completed a very thorough review of the market for vacation rentable condos in Kihei and prepared a detailed report with charts dedicated to segments like 1 and 2 bedroom waterfront (beach and oceanfront) condos. Would you like free access to the report? Just contact me to request instant access.