The 2017 sales numbers are in and, for the first time since 2008, the average sales price for a vacation condo in Kihei is now over $500,000. The 2017 average sales price was $501,888 which is up more than 9% from the 2016 sales average of $459,929. Yes, prices continue to rise for Kihei condos for sale but the good news is there are still some great units that you can buy under $500k. Below I've selected five of my favorite units at some of the most popular vacation communities. You can also see my special list of Kihei vacation rental condos for sale and save the search to automatically receive new listing alerts.
Maui Banyan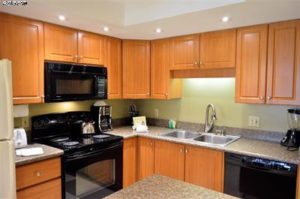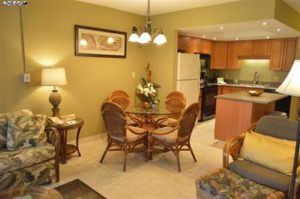 Maui Banyan #Q206 (MLS #376616) is listed for $479,000.  It's a freshly remodeled unit that's fully turn-key and boasts a consistent rental history of about $50,000 per year gross. This is a 1 bedroom, 2 bathroom unit with 650 square feet of living area. See my complete list of Maui Banyan condos for sale.
Why I'd buy this unit
Maui Banyan has an excellent South Maui location and this is one of the better condition units I've seen there for the price. Solid rental performance too!
Kihei Akahi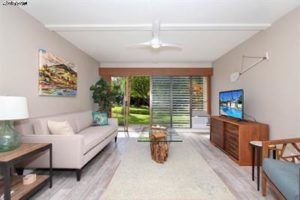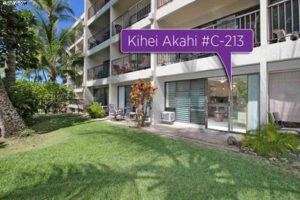 Kihei Akahi #C-213 (MLS #376095) is listed for $489,000. Completely remodeled unit with premium finishes and decor, this unit is definitely ready for the more discerning vacation guests! This is a ground floor unit with 1 bedroom , 1 bathroom and 655 square feet of living area. See my complete list of Kihei Akahi condos for sale.
Why I'd buy this unit
I personally love the ground floor convenience of this unit and really admire the upgrades they've completed to appeal to the sensibilities of the modern renter. Also, vacationers really love the location of Kihei Akahi.
Kamaole Beach Royale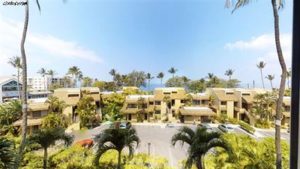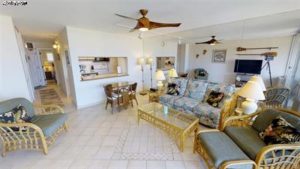 Kamaole Beach Royale #306 (MLS #376571) is listed for $495,000. This is another rental-ready unit sold fully turn-key! Located on the 3rd floor, this 1 bedroom unit offers a good quality ocean view in the building that has proven very popular. See my list of all Kamaole Beach Royale units for sale.
Why I'd buy this unit
Many condo communities have sprawling grounds with grand amenities and expensive landscaping which dramatically increases maintenance fees. Kamaole Beach Royale is minimal with it's on-site amenities which means the maintenance fee for Unit #306 is only $354 per month. Also, this community happens to be right next door to one of my favorite restaurants on Maui: Koiso serves the finest sushi I've ever eaten on this island and in the state of Hawaii.
Maui Vista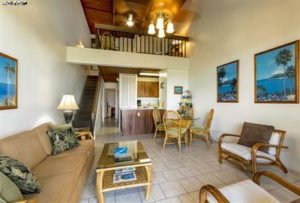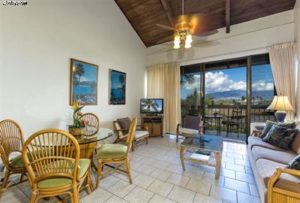 Maui Vista #1424 (MLS #376710) is listed for $482,800. Indeed, some elements of the interior are a bit dated but I say this is a good buy for the price considering the condition and the fact that you're getting a 2 bedroom unit with a partial ocean view and a majestic view of the mountain! This is just about the only community where you can get a view and this size unit under $500k. See my updated list of Maui Vista condos for sale.
Why I'd buy this unit
I once lived at Maui Vista when I was young and loved the loft bedroom and high ceilings. As an adult, I admire Maui Vista for it's location, right across the street from Charley Young beach park, which remains one of my favorite beaches in South Maui.
Luana Kai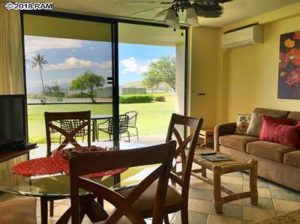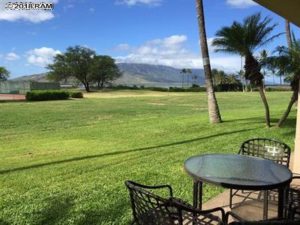 Luana Kai #D-101 (MLS #376944) is listed for $450,000. The photos don't fully capture what this unit has to offer but here are the highlights:
End unit – you get windows on two sides
Great location in a beachfront community
Just stroll across the green lawn and you're right on the beach
This is a 1 bedroom, 1 bathroom unit with 653 square feet of living area. See my complete list of Luana Kai condos for sale.
Why I'd buy this unit
I've had the pleasure of selling two units so far at the nearby community of Waipuilani and really love this North Kihei location. Luana Kai remains a popular destination for visitors who yearn to experience the charm of Hawaii from the 1980's. I also appreciate the upgrades in this unit which include a split a/c system!