If you're a proud owner of a Kihei condominium you've probably already read plenty of reports about rising sales prices and know that the market in general is up. Just like the economy, the Maui real estate market is cyclical; there are many people who bought a Kihei vacation rental condo in the years 2006 through 2008 who have been patiently waiting for sales prices to return to the heights they saw when the market was booming. The average sales price for all vacation condos in Kihei is fast approaching the high water mark set in 2006 which was $534,009 (the YTD average for 2017 is already $510,679).
Now the big question to ask is "will the market continue to go up or should I sell now?".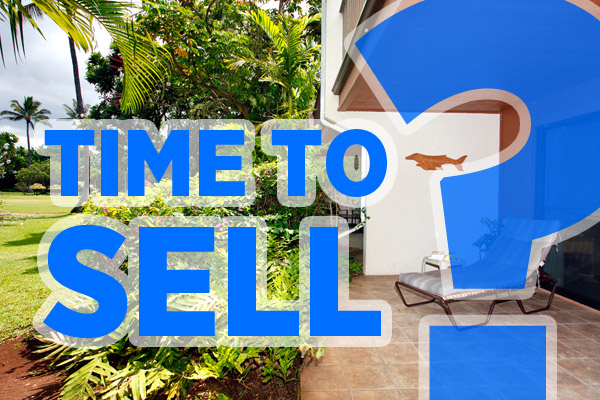 Ultimately your decision to sell should be based on your personal financial goals and the priorities in your life, but is it nice to know whether the time is ripe in the market. We don't have a crystal ball to gaze into the future and predict with any certainty what the market will do. We can, however, look at the past behavior of the market for patterns that indicate what might be in store for the future.
As you can see from the above chart, the 2017YTD average sales price is currently $510,679 which means that prices are just $23K (4.36%) shy of the market apex in 2006 which was $534,009. Certain segments of the market have recently had some unprecedented growth: for example, between 2015 and 2016 there was a 40% spike in average sales price for 2 bedroom beach/oceanfront condos.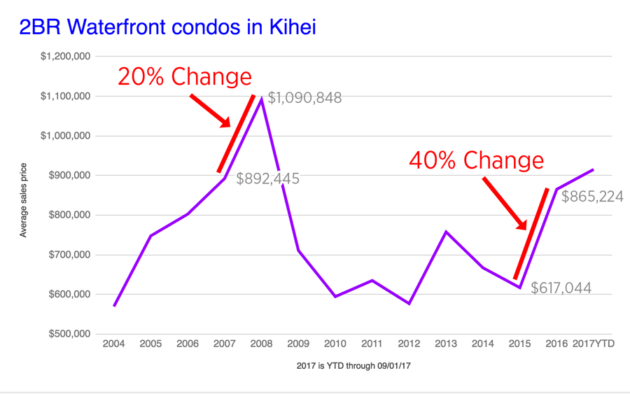 That year-over-year growth is outpacing the growth rate we saw in 2007 & 2008 which was 20%. Is this as good as things will get or will prices continue to rise in the next 18 months? The answer to that question really depends on your outlook for the economy.
We are at a unique time when the Federal Reserve is moving in earnest to unwind [strategically selling off] their massive balance sheet after an unprecedented period of stimulating the economy via quantitative easing (buying securities in order to increase money supply and promote lending). This move is likely to have an impact on mortgage rates and we might see a gradual increase in interest rates over the next few years.
Keep in mind that the actions of the Fed should not be a cause for alarm since, in many ways, they are trying to return markets to some type of normalcy after an extraordinary stimulus period. I only mention this example to remind owners that there are a multitude of external economic forces that can affect our local market.
Right now the prevailing sentiment is very optimistic about the Maui real estate market which is great! But it's worth casting your mind back to the boom times of the past and remember that a lot of prudent people didn't realize they were at the pinnacle of the roller-coaster until they felt the rush wind on their face from a sudden descent.
If you decide that you'd like to explore selling your Kihei vacation condo please invite me to give you a detailed report that takes into consideration factors such as:
When you bought your unit
How much you paid
The condition of your unit
The market changes that are unique to your condo community
In the meantime, the best way to get a feel for the market is to regularly view my custom list of Kihei vacation condos for sale and sign up to receive listing alerts specific to your complex.