This is a continuation of my article series about turnover rate for Kihei condos.
In my last article I wrote about the condos in Kihei that have a very high turnover rate. Today, let's examine the ten most popular Kihei vacation condos that have a very low rate of turnover.
Why should I buy a Kihei condo with a low turnover rate?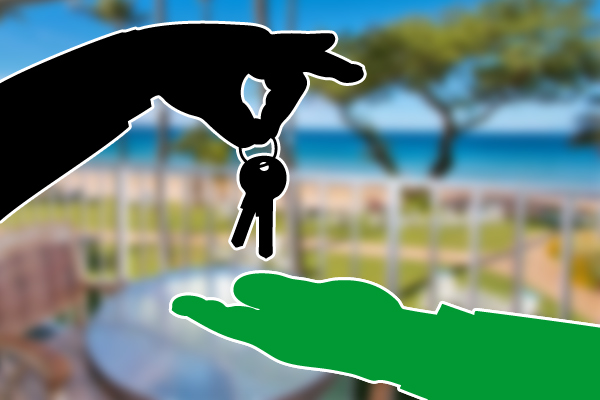 As I described in my turnover rate primer article, a low turnover rate can suggest that owners are happy with their investment in the community and tend to hold onto their units for a longer period of time. Buying a condo at a complex with a low turnover rate does not guarantee that it will be perfect for you but it does mean that you're investing in a condo where other owners have shown a higher degree of satisfaction.
Low turnover rate can signal that the condo has…
Desirable location and/or good amenities
Nice unit features
Good rental performance
Features that make it appealing for personal use
Another point to consider: some of the complexes on the list below have significantly higher price points which means owners made a larger investment with their purchase. For this reason, owners might have more of a long term commitment and outlook for their unit.
Some of the condos on the list below have great on-site rental programs which offer added convenience for owners.
Top 10 Kihei vacation condos with low turnover rates
Below is a list of the best ranking vacation condos in Kihei measured for low turnover rates. As with my previous list of high turnover condos, I've focused on vacation rental communities that have at least 50 units. All ten of the condos on the list have turnover rates lower than 3.7%.
Do you want to benefit from my detailed analysis on 5 years worth of sales data and see the actual average turnaround rate for the condos listed below? I'd be very happy to share that valuable info, just take the first step by creating your free Property Organizer account and then contact me with a quick note saying which condos you're interested in.
#10 Kamaole Sands
Kamaole Sands is a South Kihei condo located across the street from the beach with 440 units spread across 10 buildings. In 2015 there were 17 units sold and the average sales price was $502,279. See all Kamaole Sands condos for sale.
#9 Kealia
A unique North Kihei beachfront condo with 50 units. This property is leasehold but There were only two unit sales in Kealia in 2015, one at $176,000 and another at $258,000. See all Kealia condos for sale.
#8 Mana Kai
One of the most desirable condos in South Kihei, Mana Kai is located right on Keawakapu beach and the building is oriented to maximize view opportunities for each unit. There are a total of 98 units found in one building with 8 floors. There were 3 units sold in Mana Kai in 2015 with the average sales price at $1,395,333. See all Mana Kai condos for sale.
#7 Royal Mauian
Another popular beachfront condo complex, the Royal Mauian is located in South Kihei directly adjacent to Kamaole Beach Park I. The 6-floor building has a total of 107 units but only two units were sold in 2015. The average sales price at Royal Mauian is $1,454,500. See all Royal Mauian condos for sale.
#6 Maui Sunset
Located in North Kihei, the Maui Sunset offers a nice beachfront location for an attainable price, the 2015 average sales price was $398,700. There are 225 units at Maui Sunset spread across two buildings. There were 10 units sold in 2015. See all Maui Sunset condos for sale.
#5 Hale Kamaole
Hale Kamaole is a cherished condo community located in South Kihei across the street from Kam III Beach park. There are a total of 188 units spread across 8 buildings on a large 7.84 acre property. There were 5 units sold at Hale Kamaole in 2015 and the average sales price was $495,000. See all Hale Kamaole condos for sale.
#4 Kihei Surfside
Located adjacent to the Mana Kai resort, Kihei Surfside is a desirable oceanfront condo community where units enjoy North-facing ocean views. There are 83 units at the complex but there were only 4 sales in 2015. The average price in 2015 was $724,400. See all Kihei Surfside condos for sale.
#3 Waiohuli Beach Hale
One of the most interesting beachfront condos found in central Kihei that most people don't even know exist! Waiohuli Beach Hale is an older complex completed in 1979 with a total of 52 units. There were only 2 units sold in 2015, one for $470,000 and one for $550,000. See all Waiohuli Beach Hale condos for sale.
#2 Maalaea Surf
Built in 1973, Maalaea Surf is an older North Kihei beachfront condo community with 59 units spread across 8 buildings. There was one sale in 2015 for $1,100,000. See all Maalaea Surf condos for sale.
#1 Hale Pau Hana
With a great South Kihei beachfront location, it's easy to see why people love Hale Pau Hana. Unlike most of the complexes in South Kihei, this community is low density with only 83 units. Two of the buildings are simple understated two-story buildings and one larger seven-story concrete building that's curved to maximize the view opportunities. In 2015 there was only 1 sale for $800,000 but prices vary significantly depending on the location of the unit. See all Hale Pau Hana condos for sale.