I just completed my detailed analysis of the Haiku real estate market and found that the first quarter of this year (2015) is the best we've seen since 2008. Not only are we seeing 7-year highs for the average sales price and the total sales volume, we've also recording the highest number of $1 Million plus sales since 2008! Read below for the numbers and some insightful charts on first quarter Haiku home sales history over the last 15 years.
Number of Haiku homes sold
The first quarter of 2015 has already 17 home home sales in Haiku which is a recovery from the slowdown in 2014 when only 12 homes were sold in Haiku during Q1. With the exception of 2014, we are certainly seeing a very positive upward trend in for the number of Haiku home sales. We're still a ways off from reaching the 15 year high set in 2001 which had 28 homes sold in Haiku, but of course that was back when the average sales price in Haiku was just over $450k.
Good news for the Haiku luxury home market
This chart also shows good news for Haiku homes over $1M. Take a look at the blue trend line and see the incremental improvement luxury homes sales in Haiku. In the first quarter 2015 there were 4 Haiku homes sold for $1M+ in which is the most we've seen since 2008. The highest home sale in Haiku for Q1 2015 was at 575 N Holokai Road which sold for $1,880,000. This was a bank owned property in Aina O Ka Hale Pili which was bid up from the list price of $1,644,500.
Haiku average sales price
The average home sales price in Haiku for the first quarter of 2015 is $834,632 which is a 7-year high for the Haiku real estate market. Haiku shares a common trend pattern with the North shore real estate market which had as significant surge in sales prices in 2005 and 2006 due to a high number of luxury sales.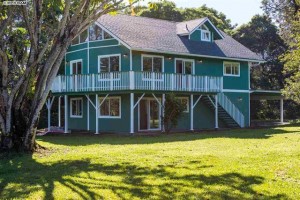 The highpoint was in 2006 when the average Haiku home sale was $1,241,759. During the economic downturn we saw a huge drop in the market and the average sales price dropped to the 2010 low of $547,363.
Haiku total sales volume
When you're looking to buy a home in Haiku, the total sales volume is not really a relevant statistic. But when you want to sell your Haiku home, knowing the sales volume is a helpful insight into the overall market behavior. The Q1 2015 total sales volume for Haiku homes was just over $14 Million which is, once again, a 7-year high in the Haiku real estate market.
The highpoint for Haiku homes was 2005 which had a total volume of over $25 Million. The low point was in 2009 with only $2,285,000 in total Haiku sales which makes sense considering there were only 4 homes sales in Q1 of that year.
See the latest Haiku homes for sale
Here's a quick list of 5 recently updated homes for sale in Haiku. Want to get email alerts about the Haiku real estate market? It's easy just save your Haiku home search and you'll get notifications right to your inbox.