Right now the Maui real estate market is moving very fast, driven in part by a buying spree from investors who are snapping up available homes to offer as rentals. There are also plenty of first time home buyers who want to take advantage of the low borrowing rates but find that many of the hot market areas have very few active listings.
Top 3 hot housing markets on Maui
Which are the hot markets on Maui right now and how do you measure it? One great indicator is the ratio of pending versus active listings in a neighborhood. If an area has very few available properties for sale and a disproportionately high number of pending sales, then that market shows high demand and short supply – a strong sign of a hot market. Below are the only 3 markets for Maui homes for sale where the number of pending sales outnumbers the active listings…
#1 – Kahului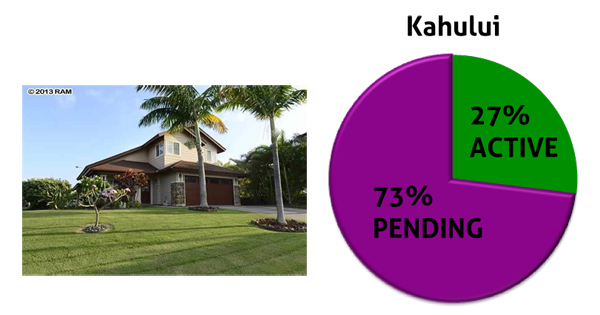 The Kahului area tops the list with 38 pending home sales compared to only 14 active listings – that means that 78% of the Kahului residential market is under contract! One Kahului neighborhood stands out: The Islands at Maui Lani has 4 pending home sales where the lowest list price is $639,000. There are also pending sales in other Maui Lani neighborhoods like The Legends at Maui Lani and the New Traditions at Maui Lani. You can see our special page devoted to the Maui Lani community which includes a great subdivision map.
Out of the 38 pending home sales in Kahului, 23 home sales are outside of the Maui Lani development where the average asking price is $396,365.
Great available homes in Kahului
See our complete list of Maui Lani homes for sale.
#2 Pukalani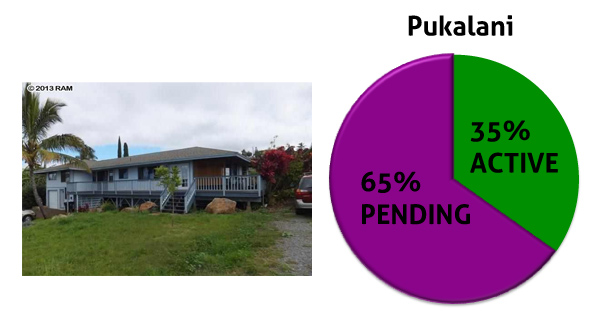 Properties are selling very fast when it comes to Pukalani homes for sale. Right now there are 15 pending home sales in Pukalani compared to only 8 active listings – so 65% of the Pukalani real estate market is under contract. The pending home sales in Pukalani range in price from $274,000 up to $725,000, the average list price for pending sales is $545,143.
Pukalani homes are going under contract faster than many other markets, in fact the average days to contract is only 59 days.
Recently listed Pukalani homes for sale
See our complete list of Pukalani homes for sale.
#3 – Kahana & Napili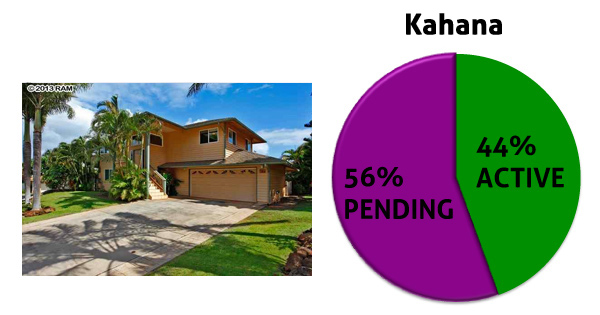 The Kahana and Napili areas of West Maui stand out in this list with the highest average asking price of $754,260. There are 15 pending home sales in Kahana and only 12 available home listings which means the 56% of the Kahana real estate market is under contract! Kahana Ridge is the star of the show with 6 pending home sales ranging in price from $625,000 to $1,249,000.
Recently listed Kahana homes for sale
See the full list of Kahana and Napili homes for sale.