Right now the media outlets like MSN, USA Today and CNN are reporting the good news from the Case-Shiller Home Price index that their national composite posted an increase of 7.3%. Some local markets are seeing great increases but Maui home prices actually fell by almost 10%. See the chart below for the nationwide home price info and read on after that for our local Maui real estate review.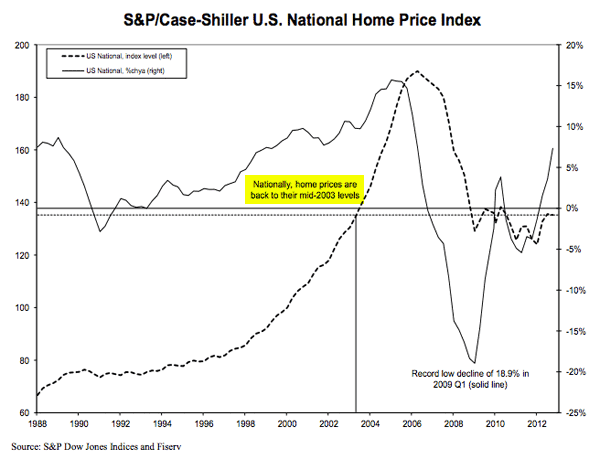 The full press release from Case-Shiller has some notable quotes that describe the improvements in the real estate market nationwide…
As of the fourth quarter of 2012, average home prices across the United States are back at their autumn 2003 levels.
A few key markets also showed double-digit growth which reflects the shrinking inventory and growing buyer demand…
Phoenix continued its climb, posting an impressive year-over-year return of 23.0%; it posted eight consecutive months of double-digit annual growth.
Sharing good news about the national housing market is nice and is always better when we include a report on the local Maui real estate market. Read below for our analysis of Maui home price fluctuations.
Maui Home sale prices over the last 10 years
Below is our chart of the average sales price and median sales price for home sales throughout all of Maui from 2002 through 2012…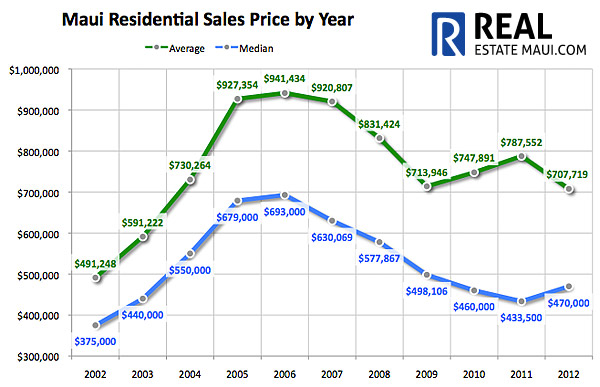 Our chart above shows that Maui average home price peaked in 2006 at $941,434. The average price did have some gains in 2010 and 2011 but fell in 2012 to $707,719 which is closer to mid-2003 prices.
Maui home price average down 9.97%
In 2012 the Maui average home sale price fell 9.97% which is due in part to a very weak year for luxury home sales where there was a 21% drop in the number of homes sold over $2 Million (52 home in 2011 compared to 41 in 2012). Wailea homes for sale in 2012 had a 32% drop in average sales price and Kapalua homes also faired poorly with a 24% drop in price.
It's not all bad though, some neighborhoods did have healthy increases in 2012. For example, Maui Meadows homes had a 15% increase in average sales price and Makawao homes went up 14%.
The other good news is that the median sale price is up for the first time in 5 years! The median sales price had peaked in 2006 at $693,000 and had a decline for 5 years in a row bottoming out at $433,500. In 2012 the median jumped up 8.42% to $470,000.